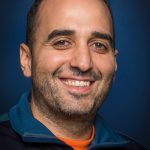 Around the year 1993 I have got my first PC. It was not an easy task …. Back there the cost of my first 286 it was like one of the actual most powerful PC and that was a lot of money in the 90's. So there I was, with my first PC learning how to program in basic. Since the beginning everything I used to develop it were games. I still remember the first one. A version programmed in basic of the classic "snake". After that one a lot more comes to maintain me busy in the long winter evenings. All my memories since those days always involve some computer programming of some short.
My passion for developing video games was one of the main reasons why in 2014 I Co-Founded 2Awesome Studio, a small indie game development studio from The Netherlands / Spain. We have been working on Dimension Drive since them and we plan to release it in 2017 for PC / Mac / Linux/ PS4 and XBox One.
I also have been developing all kinds of Software during my professional career (over 14 years), from Satellites like Rosetta to management and back en software in Java / Ruby / Oracle. I consider myself a reliable person that really loves and enjoys software engineering, helping me to deliver high quality software to all my clients.